Strong By Choice 5K, 10K, 13.1, 26.2...
Events:

Running : Half Marathon :
Running : 10K Run / Walk :
Running : 5K Run / Walk :
Running : Marathon :
Race Date: Saturday, February 4, 2017
Location: SALT LAKE CITY
Address: YOUR CHOICE - Treadmill, Gym, Track, Road, Trail
City: Salt Lake City
State/Terr: Utah
Zip: 84103
Country: USA
Description:
*A LIMITED NUMBER OF MEDALS ARE STILL AVAILABLE AND ON CLEARANCE FOR $6.00 UNTIL THEY SELL OUT! COMPLETE YOUR RACE BY THE END OF 2017!
"We don't know how STRONG we really are until being strong is the only CHOICE." This year's medal will be 3.5 inches and we are really excited with how they've turned out! Last September we raised money for a fellow Moon Jogger that had suffered a traumatic brain injury. This year, we continue to raise awareness for traumatic brain injury.
When: Complete your race any time between September 1 and November 30, 2016.
Where: You choose the course and you time yourself (you'll report your finishing time to us).
Why: Because we want as many people as we can get to virtually run (or walk) a 5K, 10K, Half or Full Marathon to help raise awareness for traumatic brain injury. We will be donating a portion of each registration fee (at least 15% of each registration) to the Brain Injury Association of America.

Cost: $18. Includes custom medal and bib that will be shipped directly to you. Plus, at least 15% of every entry will be donated to Brain Injury Association of America. (typically about $5). *We are in no way affiliated with this charity, we like to choose a different charity for each of our races and are happy to raise funds for them.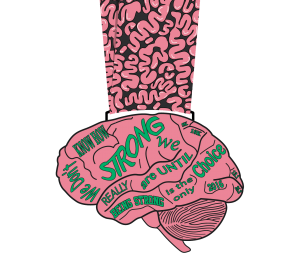 Medals will be shipped out within 2 to 4 days of signing up.
<< Find Other RoadRace Events In Utah
Trifind the American triathlon calendar provides past, present and current triathlon resources- including triathlon results, triathlon events directory, triathlon coaches listing and triathlons for beginners. Trifind also have an extensive blog section with up to date news and events in categories such as adventure cycling, centure bike rides, kids bike races and news in triathlon, cycling, running, nutrition and fitness sections.