NYCRUNS Central Park Half Marathon...
Events:

Running : Half Marathon Run :
Race Date: Sunday, February 26, 2017
Location: Central Park
Address: 102nd Street Transverse
City: New York
State/Terr: New York
Zip: 10023
Country: USA
Description:
Event details and schedule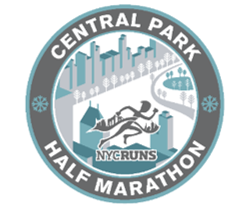 Start time:
Start time: 9:00AM. (tentatively)
Central Park
Address:
Central Park New York, NY
NYCRUNS invites you to take part in the 2017 Central Park Half Marathon! The race, now in its fifth year, will take you on a wintry tour of Central Park's rolling hills and will provide an excellent opportunity to test your fitness going into the Spring season.
COURSE
The race begins on East Drive at 100th Street and finishes on the 102nd St. transverse. Half-Marathon Map.
AMENITIES
Bag check and toilets will be provided.The giveaway for this race will be a great long sleeve race shirt (note: sizes are not guaranteed). Hot chocolate, bagels, spreads, fresh fruit and more will make up the usual great NYCRUNS post race spread. All finisher's will receive a medal.

PACKET PICKUP
Pre-Race packet pickup Friday
2/24
from 3PM-8PM at
Paragon Sports
(867 Broadway) in Manhattan.
Raceday packet pickup will take place in the festival area beginning at 7:00 AM and closing SHARPLY at 8:30 AM.
BIB MAILING
Bib mailing is available for this race for participants registered by 2/6. You must choose this option when registering and the bib must be mailed to the address you choose then. Shipping to domestic US addresses only. The cost is $15.00. Note: Shirts will not be mailed. They will be available for pickup before or after the race.
COST
The race cost is currently $65. Future price increases to be determined. NYCRUNS members receive a 10% discount, race deferral rights, and other perks. Race day registration (if available) is cash only. Register early, save money, and and save us all a lot of hassle!
AWARDS
Awards and prize money will be given to the top three male and female runners overall as follows: $500 for 1st Place, $250 for 2nd Place, and $100 for 3rd Place. Age group awards will be awarded to the top three in each of the following age groups: 19 and under, 20-29, 30-39, 40-49, 50-59, 60-69 and 70 and over. Our awards policies are available here.
DIRECTIONS
Take the C train to 102nd St. or the 6 train to 103rd St. and enter the park. Race HQ is located at the center of the 102nd St. transverse near the finish line.
Please check MTA Trip Planner for up to date and detailed mass transit directions and Google Maps for driving directions. Parking is limited at all of our events, we strongly encourage you to use mass transit.
POLICIES
The standard no-refunds, no-deferrals, no-transfers policy applies, unless you are signed up for the NYCRUNS Membership Program. NYCRUNS members receive a 10% discount, race deferral rights, and other perks. Strollers or Dogs are not allowed in NYCRUNS races and you may be disqualified if earbuds or headphones hinder your awareness. To learn more about all our policies, click here.
Trifind the American triathlon calendar provides past, present and current triathlon resources- including triathlon results, triathlon events directory, triathlon coaches listing and triathlons for beginners. Trifind also have an extensive blog section with up to date news and events in categories such as adventure cycling, centure bike rides, kids bike races and news in triathlon, cycling, running, nutrition and fitness sections.