Support Our Girls 5K & 10K...
Events:

Running : 10K Run / Walk :
Running : 5K Run / Walk :
Race Date: Sunday, May 28, 2017
Location: Denver
Address: Your Choice - Treadmill, Gym, Track, Trail, Road
City: Denver
State/Terr: Colorado
Zip: 80202
Country: USA
Race Website: http://www.virtualrunevents.co...
Description:
*A LIMITED NUMBER OF MEDALS ARE STILL AVAILABLE AND ON CLEARANCE FOR $8.00 UNTIL THEY SELL OUT! COMPLETE YOUR RACE BY THE END OF 2017!
race: SUPPORT OUR GIRLS: JOGGING FOR THE JUGS 5K and 10K! We honor all women out there that are courageously battling this disease. We will also be donating at least 15% of every registration to the Breast Cancer Research Foundation, an amazing organization that is dedicated to to prevent and cure breast cancer by advancing the world's most promising research.
What: Complete a 5K and/or 10K! Set a goal for what your finishing time will be and dedicate your run/walk to all those we are running for.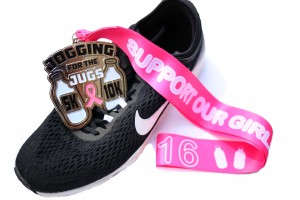 When: Complete your race any time during 2017.
*Medals will ship within 2 to 5 days of signing up.
Where: You choose the course and you time yourself (you'll report your finishing time to us).
Why: Because we want to honor incredible women and raise funds for the Breast Cancer Research Foundation!
COST: $18, which includes your medal, bib and shipping. Plus, at least 15% of every registration will go to Breast Cancer Research Foundation
Event details and schedule
Other Info:

• 2017 race registration is open.

• Registration Information.


• • •
Map:
<< Find Other RoadRace Events In Colorado
Trifind the American triathlon calendar provides past, present and current triathlon resources- including triathlon results, triathlon events directory, triathlon coaches listing and triathlons for beginners. Trifind also have an extensive blog section with up to date news and events in categories such as adventure cycling, centure bike rides, kids bike races and news in triathlon, cycling, running, nutrition and fitness sections.