National Unicorn Day is 4/9 and we are celebrating with a fun run the evening of Friday, April 8th. In addition to the in-person option, we also have a virtual option for those who are out of town and wish to have their SWAG mailed.
Our in-person UN-TIMED 5K Fun Run (or walk) will take place on Friday, April 8th at 6 pm. This is a flexible and fun 5K run or walk around the Shoppes at South Hills parking lot with other "unicorns." This is a low-key and fun event and is open to runners and walkers of all levels including beginners and those considering a 5K for the first time. Participants are encouraged to get creative and have fun with their outfits as there will be custom hand-made unicorn-themed prizes for those with the best unicorn spirit as determined by our judges.
All participants will receive the following with their $25 entry fee:
- A custom Unicorn run race bib
- A gender-specific custom Sparkle Like A Unicorn Tank or Tee in Purple or Grey
- A large and very beautiful custom Sparkle Like a Unicorn finisher's medal
- A delicious individually wrapped cookie from The Cakery in Fishkill (in-person participants only)
- A chance to win a custom hand-made unicorn prize for displaying the best unicorn spirit (in-person participants only)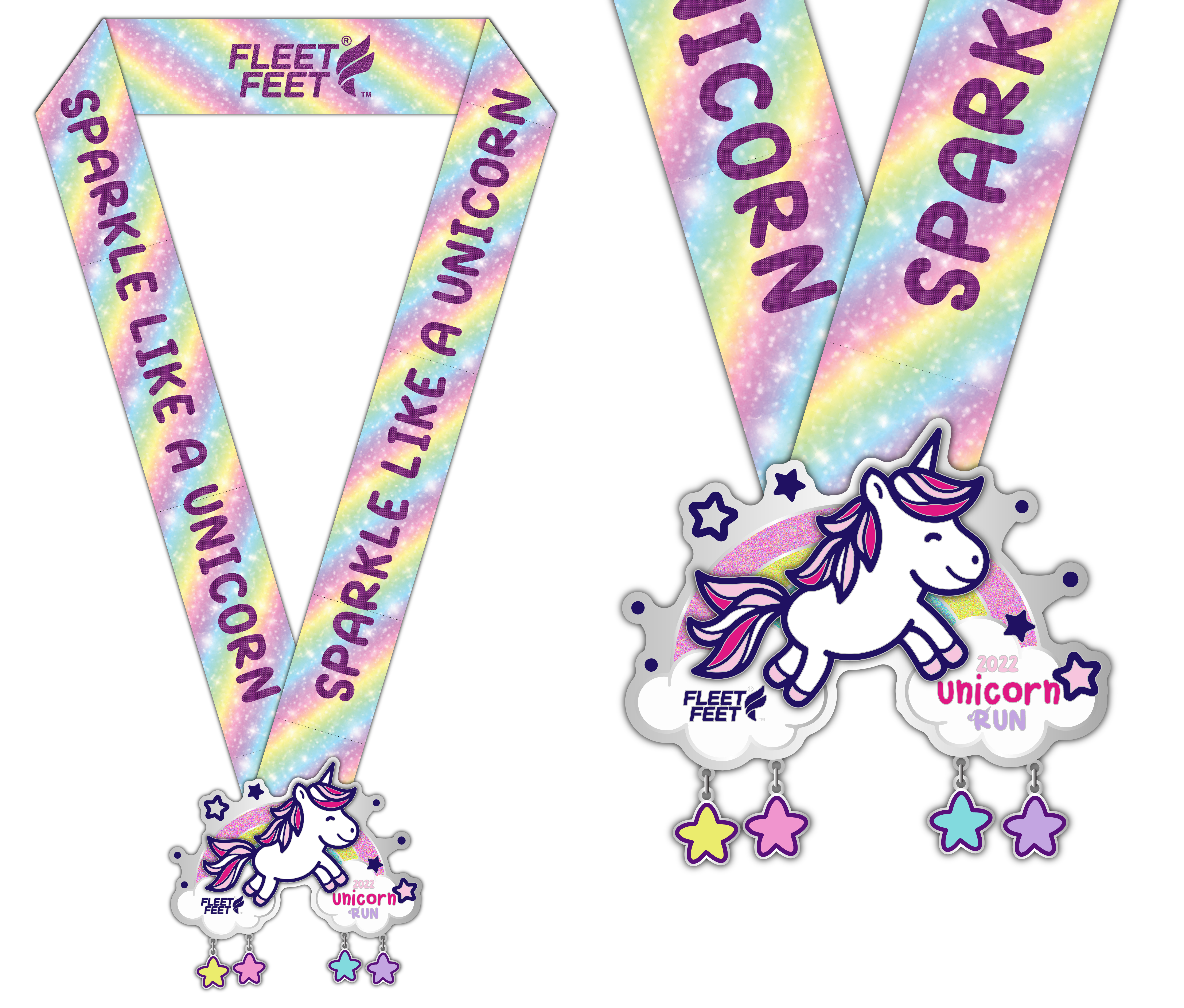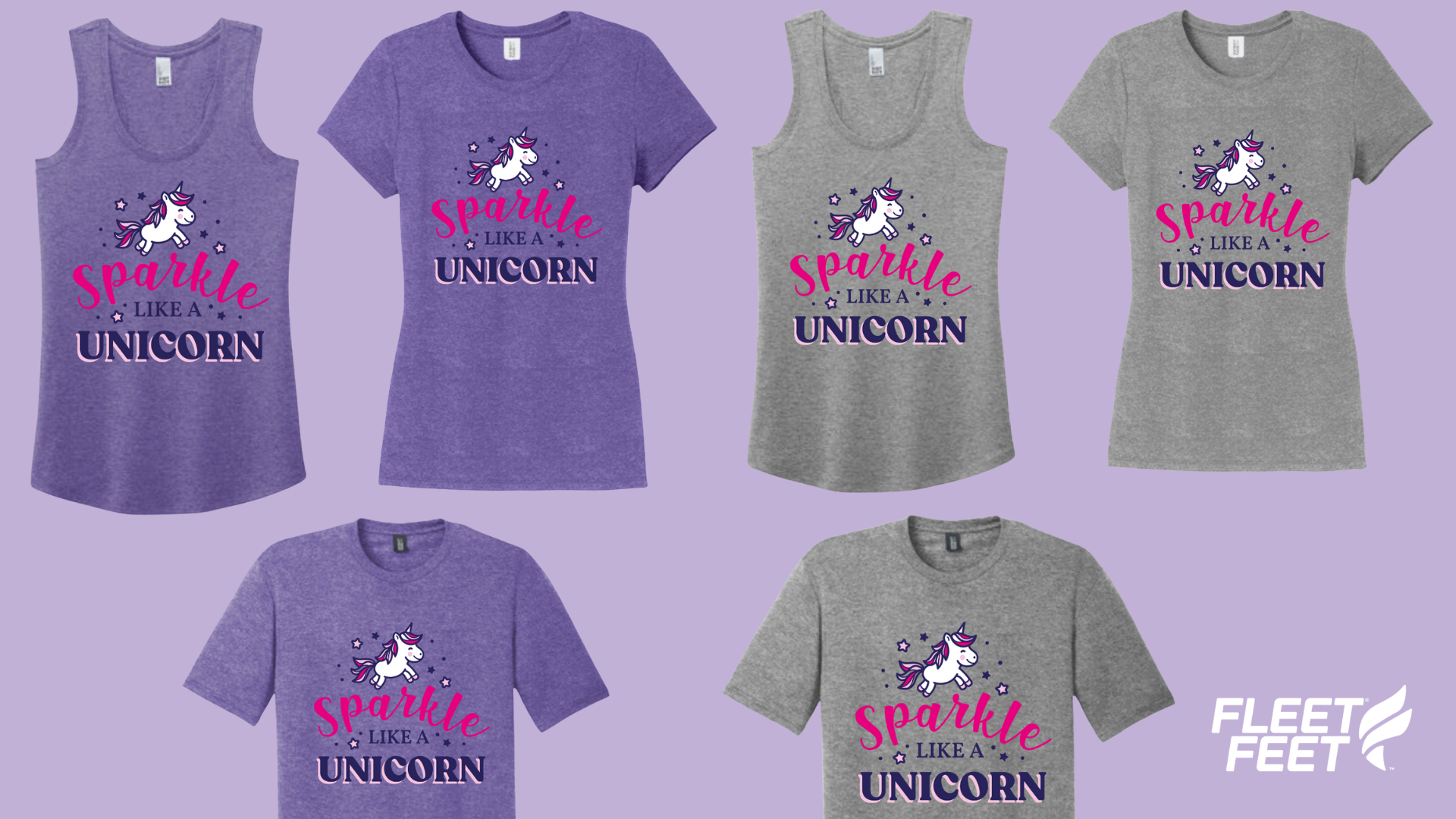 Shirt & bib pickup will start on Thursday 4/7/22 at 10 am and shipped packages will go out by this date as well. An email will be sent to all participants on Tuesday 4/5/22 with additional details about the in-person event, SWAG pickup, virtual time submission, and other pertinent details.
Please note that we have discovered an issue with Hotmail where they are blocking our emails from [email protected]
If you have a Hotmail account, you can follow the below steps to receive our pre-race emails:
- Log into the WEB version of Hotmail (won't work on the app)
- Click on "Settings" then "Mail" then "Junkman" to view the safe and blocked lists
- Add [email protected] and the domain @fleetfeetpoughkeepsie to the safe sender list
Virtual participants should complete their 5K run or walk anytime between Friday 4/8 and Sunday 4/17 and all participants (both in-person & virtual) will have the option of entering their finish time into our virtual leaderboard on Run Signup. Registration is online only - there will be no in-store sign-ups for this event. Spaces are limited, register soon to secure your spot.
FAQs
Is the in-person event stroller-friendly?
The run/walk will take place in the South Hills Mall parking lot and while traffic is pretty light this time of day, the roads are completely open to traffic. We are ok with stroller participation as long as you are comfortable with the risk of being on roads that are open to traffic. Those with strollers should also use extreme caution when approaching other runners and allow ample space, particularly on hills. We ask that those with strollers start toward the back just so that the large pack has a chance to spread out a bit to minimize any chance of injury. Also please be aware that only registered participants will receive bibs and participants will be required to show their bibs to get their medal and cookie.
Is this run timed?
The in-person 5k is an UNTIMED fun run. All participants (whether virtual or in-person) will have the option of inputting their 5K finish time into Run Signup. This is completely optional and is not a requirement for participation. If you choose to participate, you should record the time it takes you to complete the 5K (3.1 miles). We will provide additional details on how to upload your time in advance of the event. This event is completely open to all paces, levels, and abilities including those working toward a 5K goal.
Do you have a course map
?
This run takes place entirely in the Shoppes at South Hills Parking lot. If you are looking for additional information beyond that, this probably isn't an event for you :)
When will I be able to pick up my Sparkle Like a Unicorn bib and shirt?
We will be hosting bib and shirt pick up at Fleet Feet Poughkeepsie starting on Thursday 4/7 during normal business hours. An email will be sent with additional details on Tuesday 4/5. Participants can also get their bib and shirt immediately before the event on Friday 4/8, please just leave yourself some extra time.
How do the shirts run?
Participants can choose from Men's/Unisex T-Shirt, Ladies T-Shirt or Ladies Tank. All of the tanks and tees run true to size and there isn't a need to size up. To keep race costs low, we order the exact number of shirts that we need and are unfortunately unable to accommodate size switches once the order is placed. Participants are highly encouraged to wear their Sparkle Like a Unicorn on the evening of the event!
Is there a waitlist if the in-person event sells out?
We will not have a waitlist for this event and it does generally sell out. If you are considering registering, don't wait and miss out!
I signed up but can't attend, can I transfer my registration?
Yes! Since this is an un-timed fun run you can transfer your registration. If you are reselling your space, you would handle that on your end, we don't resell spaces. Also please note that shirt sizes cannot be adjusted as shirts are ordered at the time of registration.
I can't participate due to injury/illness/family emergency etc., can I get a refund or transfer my registration to another event?
We are unfortunately unable to offer refunds or transfers, race supplies are ordered as registrations come in. You can transfer your registration per above and you can also pick up your SWAG even if you don't make it to the event and/or participate virtually.
What if the weather is bad?
The event will happen rain or shine and we would only not run or delay the start time if there were dangerous conditions such as thunder & lightning.
What if I miss the event, can I pick up my SWAG after?
Yes, you can, anytime during normal business hours. We just ask that you please pick it up before April 30th when everything will be purged.
Where do the race fees go? Does this event raise money for something?
Each event that raises money for a specific cause will be explicitly stated, including a detailed explanation of exactly how much is going where. For the large majority of our events though, the race fees are used to purchase the giveaway items and other goodies that make our events amazing. We view our races and events as a marketing arm of our in-store business which means that we aren't ever really looking to make a profit on events. This model is vastly different from most events that are profit-driven and this differentiation enables us to put all of the race fees back into the events, making them a fantastic experience for participants. We usually go a bit over the top with food, drinks, giveaways, and other extras to ensure a great time is had by everyone!